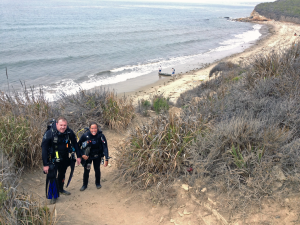 Dive Site: Tajiguas is a great dive site with lots to offer: wide variety of life around shale rock that sticks out at angles from a sandy bottom creating interesting topography to dive in. On top of that, it generally has lots of kelp making it even more interesting. It is arguably the best beach dive we have in Santa Barbara. Generally is has low current and surf, and, typically, an easy entry. Easy entry after you make it down the bluff, that is. Once you're on the beach, do your entry somewhere in the middle of the beach and don't get too close to the point. Otherwise you may encounter a submerged rocky patch during your entry that will make for unstable footing. The dive itself is close to the point you can see in the top right corner of the picture.
Amenities: Other than parking this site does not offer any amenities. It is also a remote site and car break-ins have happened here. Don't leave any valuables in your car.
Parking: Parking is up on the bluff and it is a sandy path from the parking area to the beach. It can be a bit slippery in certain spots so move carefully. See the picture for the trail. The dive itself is close to the point you can see in the picture. You'll be suiting up fully in the parking lot and walk down this trail in full scuba gear. Obviously, at the end of the dive you'll be walking up this path again. It's definitely more strenuous than the average beach dive but well worth it.
Directions: The site is located alongside HWY 101 approximately 1.5 miles north of Refugio State Beach. Parking is alongside the freeway, accessible only from the southern bound lanes of the 101. If coming from the south a turnaround is available approximately 1/4 mi. north of the dive site itself. Look for a U-Turn from the left lane about 2 miles past Refugio SB. It'll be at the first stop sign you see past Refugio SB. Note that you'll obviously be crossing south-bound traffic on the 101 that is traveling at highway speeds. Be extra careful! Head back south on the 101 and you'll see a dirt lot alongside the highway. Link to Google Maps.