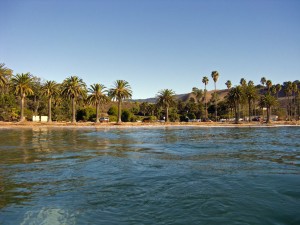 Dive Site: Refugio SB offers two distinct sites for diving. On the day-use site (west) is a rocky reef that runs parallel to the beach but is a little bit of a swim out over a sandy bottom. On the campground site it offers kelp growing around shale rock sticking out of the sandy bottom at angles making for interesting topography and a lot of varied wild life. Both sites are easily accessible through a gradually sloping sandy bottom. There is generally low current and swell but visibility is a bit hit and miss.
Amenities: Refugio SB is run by the California Department of Parks & Recreation. It offers bathrooms at both dive sites, showers for a quick rinse after diving, and the day-use site has BBQs. It's a popular destination so you'll need to show up early to claim a BBQ spot.
Parking: There is ample parking at both dive sites but it is also a popular destinations, especially for day-use on the weekends. Plan to arrive early. There is a day-use fee to enter Refugio SB. Currently (2015) it's $10 per vehicle.
Directions: Refugio SB is about 23 miles north (well, technically west) of Santa Barbara. Take the 101 north until the Refugio Rd. exit. At the bottom of the exit, go left under the freeway and follow the signs. Coming from the north, take the 101 south and take the Refugio Rd. exit. Link to Google Maps.