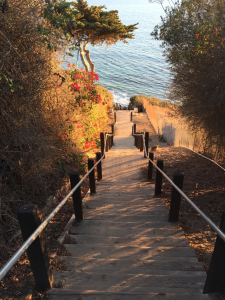 Dive Site: The dive is at the bottom of some 250 steps. It's quite a climb, especially going back up the stairs after the dive. The dive is rather pretty, though, and on a good day definitely worth it. It has a rocky reef structure parallel to the beach with patches of kelp that supports quite a variety of wildlife. There are starfish, anemones, urchins and nudibranchs. Other marine life that can be found here includes harbor seals, leopard sharks, shovelnose guitarfish and a wide variety of other fish such as perch, kelp bass, and rock fish. Visibility is hit and miss and can range from 5 to 25 feet. Depth ranges from about 15-25 feet of water.
Difficulty: Mesa Lane is only for the determined diver. The hike down the steps isn't too bad, the hike up the steps after the dive is quite a challenge. Depending on the tide, there are some slippery rocks hidden under the water. Take a route slightly west from the steps, but be very careful and only do this dive at high tide. Still, move carefully feeling the bottom with your feet as you move along.
Amenities: This dive site offers no amenities.
Parking: There is limited street parking but it also a popular destination for beach goers. It can be difficult to find parking close to the steps.
Directions: Driving on the 101 Freeway, take the Las Positas exit (Highway 225). If you were driving southbound, turn right onto Las Positas, if northbound turn left. Follow Las Positas until it dead ends into Cliff Drive. Turn left onto Cliff Drive. After about half a mile, turn right onto Mesa Lane and go to the end.