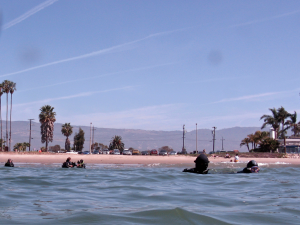 Dive Site: Goleta Beach is rather famous for its low visibility but on a good day it can be a good dive. It has a pipe for treated sewage running along the pier on the west side of it (don't worry: it dumps out about a mile off shore in about 95 feet of water). The pipe is covered with rock and, with kelp attached to it, is the main attraction of this site. The rest of this dive site is primarily sandy bottom. It is a site that has easy entry with a gradually sloping sandy bottom, generally low current and surf. Depth is 10-25 feet.
Amenities: There are restrooms and showers available near the pier and there are some BBQ grills as well. It does get busy so show up early if you want to claim a spot with a BBQ. There are also a few group areas that you can reserve (for a fee) if you have a need for a larger group. You can do so through the Parks Division of the County of Santa Barbara web site.
Parking: There is ample (free) parking but it is also a popular site for day use, gets quite busy on the weekends and, especially, holidays.
Directions: Goleta Beach is located off HWY 217 near UCSB. From from the south on the 101: take the HWY 217 exit towards UCSB/Airport, then follow the directions to the airport and beach. Coming from the north: take the Fairview exit and turn right. Follow directions to the airport and the beach. Link to Google Maps.